CMR Inc Recommended by JASPER
We are proud to be one of three companies nationwide to have earned the "Recommended by Jasper" Rating for our www.JasperWebsites.com coop Owner | Installer website design, hosting and programming effective March 19, 2014. We have always worked hard to earn the respect and referral of our customers, and this program is a direct result of those efforts, beginning with the referral of Jim Van Dyke Automotive to Westerville Automotive. We then worked closely with their sales representative, Dane Patterson, to customize and expand the program significantly, then worked with the Jasper Marketing Department to ensure the success of our current customers. Currently, our Owner | Installers rank in the top 100 worldwide for a Google Search of "Jasper Engines," which has earned us this opportunity.
The program we are offering all Jasper Engines Owner | Installers has been reviewed by the Marketing Department and is 100% coop approved with three levels of website design cost, as well as three options for hosting and expanded services. The websites are approved for 50% coop reimbursement up to a total reimbursement of $1,000, and the programming is approved for 50% coop reimbursement up to $1,000/year, based on the Jasper coop accrual available for the year.
These websites are designed with pages and features to market all of the business owners products and services with individual sections for those products or services, an online appointment and testimonial program, Google Analytics & Mapping, as well as a Responsive website design. Each site also features our proprietary news integration system (CMR Easy News), which allows the customer to add time-sensitive coupons or news with photos and video with 3 easy steps, which directly feeds into their social media programs.
Our program also provides the continued support of not just full website server hosting with a complete daily backup copy of their website, but the added advantage of news integration added by CMR Inc. monthly to ensure the continued growth and vitality of their online marketing efforts. I am very proud of the team here at CMR Inc. and their tireless efforts to get this program. Talk to us about the Jasper Website coop program.
*CMR Inc. also provides a corporate SCAG Outdoor Equipment coop program.
Below is a visual image of our proprietary CMR Easy News Program page so you can see just how easy it is to add content to your website with CMR Inc.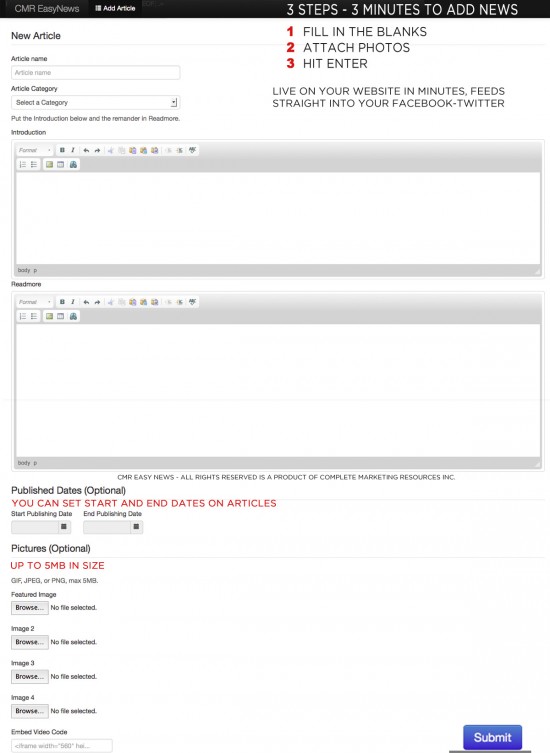 News Release from Jasper Engines & Transmissions 3/19/2014 by Marketing Director Mike Pfau
We are happy to announce that we have selected three vendors - Upright Communications; Autoshop Solutions; and CMR Inc. - that we approve to develop websites for our Installer Customers.
PLEASE KEEP IN MIND, HOWEVER, THAT YOUR CUSTOMERS MAY STILL WORK WITH ANY OTHER VENDOR THEY CHOOSE. THE SAME INTERNET CO-OP GUIDELINES WILL APPLY - http://www.jasperengines.com/pdf/Website_Co-op_Guidelines.pdf. THE ABOVE VENDORS ARE APPROVED, BUT NOT EXCLUSIVE.
We decided to develop this group of approved vendors in order to provide another value-added service to our customers. We are confident that these companies will provide a quality product and quality customer service. This program will also hopefully provide a level of confidence to those Installers who do not have a website or who are not satisfied with their current site and/or vendor.
We have had a long-term relationship with these vendors in various capacities:
Upright Communications is the company that has developed our Corporate Website and works with us on our Search Engine Optimization and advises us in other Internet-related areas.
Autoshop Solutions (Danny Sanchez) has worked with us on seminars and is well known and well versed in the automotive field.
CMR, Inc. has developed and maintains websites for several of our customers.
We will also be adding them as links to the Co-op section of our website. Please let me know if you have any questions.
Mike
---
Complete Marketing Resources, Inc. (CMR, Inc.) specializes in online marketing, consulting, award-winning and functional website design, search engine optimization (SEO), and proprietary content management programming while providing measurable savings and results.
Expect great customer service, fair pricing, and a unique viewpoint. We look at each project with the goals set to achieve results, stay on budget, deliver on time, and most importantly streamline your expenses. Each job is exciting and unique so we work hard to deliver results and the result is a growing business with great customer referrals and testimonials. Read Testimonials
READY TO GET STARTED?
GET A CUSTOM QUOTE HERE
CALL: (270) 245-2365 | This email address is being protected from spambots. You need JavaScript enabled to view it.