Wildlife Property Network
Wildlife Property Network was the vision of a repeat client who wanted a custom HTML site to showcase hunting and outdoor properties for sale for anyone on the world wide web to post their property. This site features any type of property for sale with acreage to include what type of game is available to hunt.
CMR included a mapping component, automated repeat or single payment option, custom programming for all hunting activities, game, and type of property utilized. We also built a piece that allows them to edit the pages, assign users, and edit properties listed from a front page login to facilitate their needs.
This website property management - leasing program is available for sale as the cus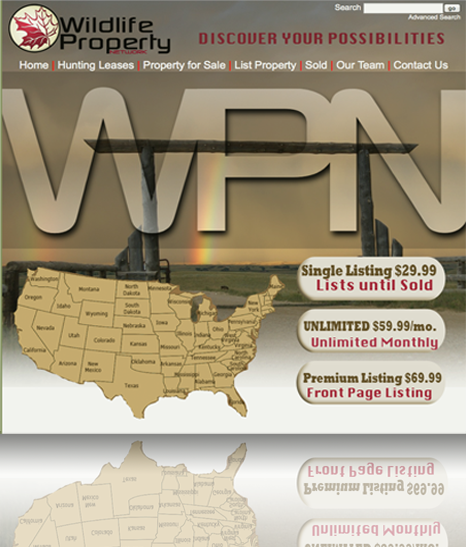 tomer did not finish paying for the system.
---
Complete Marketing Resources, Inc. (CMR, Inc.) specializes in online marketing, consulting, award-winning and functional website design, search engine optimization (SEO), and proprietary content management programming while providing measurable savings and results.
Expect great customer service, fair pricing, and a unique viewpoint. We look at each project with the goals set to achieve results, stay on budget, deliver on time, and most importantly streamline your expenses. Each job is exciting and unique so we work hard to deliver results and the result is a growing business with great customer referrals and testimonials. Read Testimonials
READY TO GET STARTED?
GET A CUSTOM QUOTE HERE
CALL: (270) 245-2365 | This email address is being protected from spambots. You need JavaScript enabled to view it.